Gillian begins her Feb. 1st, 2022 Public health update by admitting cases COVID cases are down significantly. She then offers an ultimatum that in person activities can return if we just do what she claims, she thinks works at preventing COVID. She even says its "The time for all of us to double down on prevention". I'm sure its easy for her to tell students to double down on disruptive measures like wearing a mask while she works from home maskless.

Another "prevention" measure Gillian refuses admit has failed is mandated COVID vaccines. This semester was the first semester students were required to be vaccinated or receive an approved exemption and this was also by far the semester with the most COVID cases since the pandemic began. The 7 day average still remains higher as of January 28th than any previous peak. The vaccination rate was much lower and even zero for the first of the previous 3 surges.
Next Gillian tells a bold faced lie about the FDA's approval of Spikevax. She claims The FDA approval changes Spikevax "from Emergency Use Authorization (EUA) to full approval", But Spikevax was never Emergency Use Authorized. the "Moderna COVID-19 vaccine" was Emergency Use Authorized and it still is.

As we reported yesterday The FDA, Big Pharma, and people like Gillian are pulling the same bait and switch they did with COMIRNATY (which remains unavailable in the United States).
The FDA's letter of approval clearly states this is not true and that "The products are legally distinct with certain differences"

This is also clearly stated on the FDA fact sheet for healthcare providers which obviously Gillian either did not read or did read and is knowingly lying about.
The Moderna COVID-19 Vaccine is Emergency Use Authorized (EUA) for doses 1 & 2, as well as additional booster doses.
Spikevax is only FDA approved for doses 1 & 2, it is EUA for booster doses.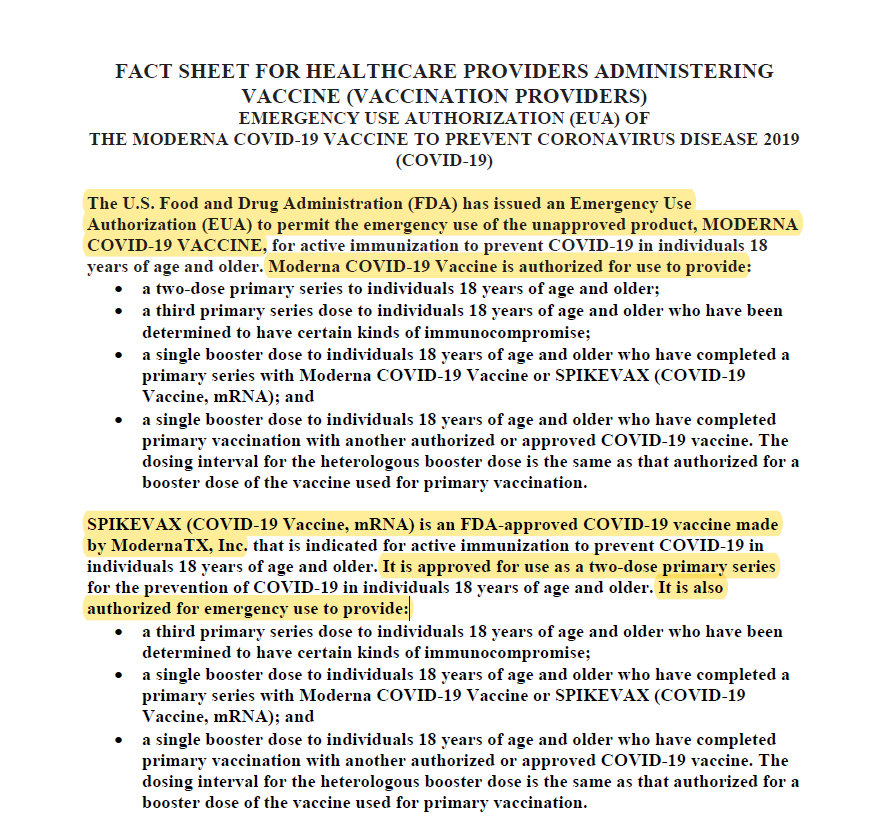 Page 7 of The Letter of Authorization for Spikevax literally even admits Spikevax and COMIRNATY are not available in the United States as of 1/31/22. COMIRNATY has been approved since August, why else would Pfizer continue to produce the EUA vaccine and still have no FDA approved COMIRNATY available unless it was for the liability protection?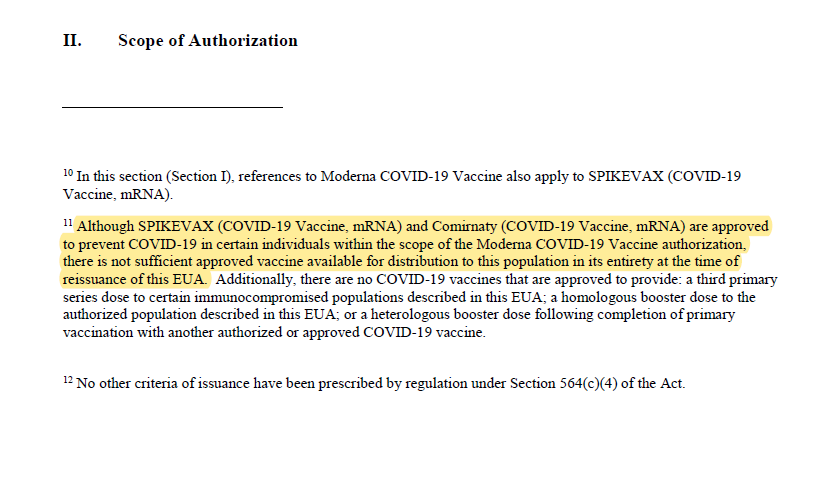 Which is why yesterday before Gillian sent this public health update I informed her and OU COVID Operations that COMIRNATY AND SPIKEVAX ARE UNAVAILABLE which is why the EMERGENCY USE AUTHORIZATION for the Moderna COVID-19 Vaccine was reissued.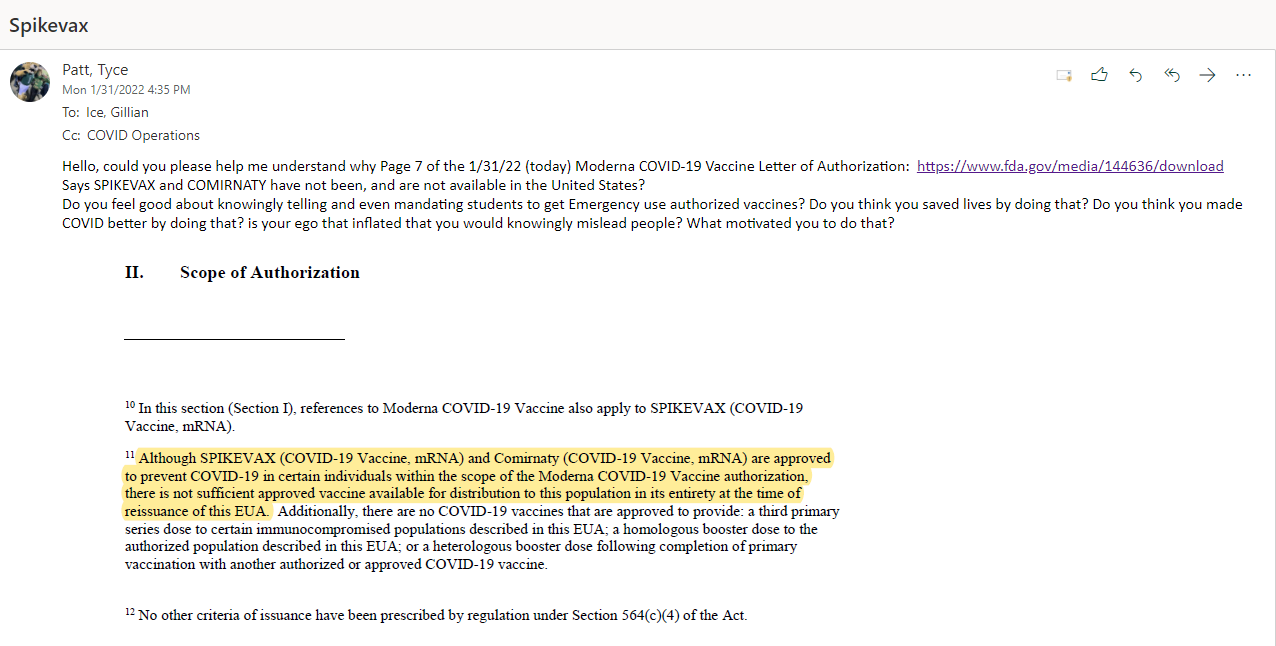 Knowing Ohio University and Gillian ice would lie and pretend these vaccines are the same and claim the FDA approved Spikevax is actually available I posted on my personal Instagram yesterday calling out what COVID operations would do before they even did it, the lies are so bad they are predictable.
Gillian loves saying "fully approved" which is weird since the FDA does not use the term "fully approved", because something is either Emergency Use Authorized or Approved, there is no half approval. You don't have to believe me, do a CTRL+F search for "fully approved" or "full approval" on the FDA's Spikevax page and documents.
You can even search the whole FDA website for "fully approved" or "full approval", they have literally never used the term for anything, yet Gillian does repeatedly.
Which makes it obvious Gillian has heard this phrase from watching mainstream media who also uses the term. I would hope Gillian actually believes the Media's (sponsored by Pfizer) lies and she's not knowingly lying, but when I repeatedly inform her about the misinformation she's spreading and she continues to spread the disinformation it is clear she has some type of motivation to mislead people about this.
This is not even the first time Gillian has been caught lying about FDA approval as we previously reported An OU Student Asked COVID Operations If They Could Receive The Only FDA APPROVED COVID Vaccine COMIRNATY. OU Could Not Provide an Answer. and reported in Gillian Ice and Ohio U Hid the Fact That Ohio University has NOT Administering FDA Approved Vaccines and KNEW that the Vaccine Mandate was Unlawful.
Gillian goes on the make the claim the unvaccinated are being hospitalized at higher rates.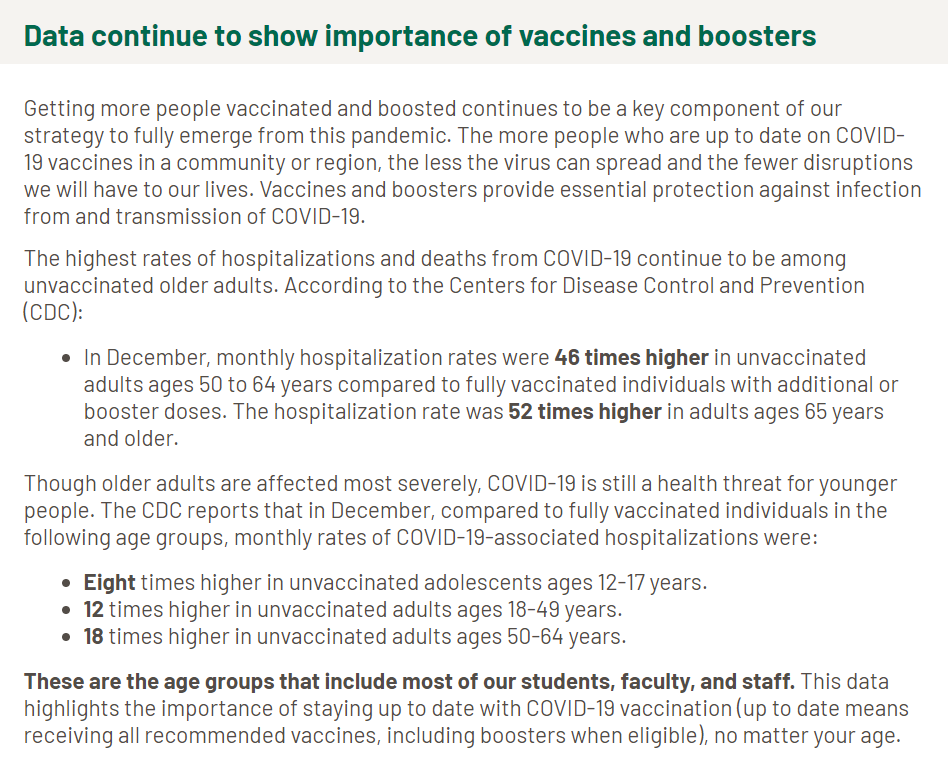 To support her claim she used preliminary data from the CDC. She did not provide a link for the source because she doesn't want you reading to deep into the CDC's page.

The footnotes of this data admit some very interesting and important facts.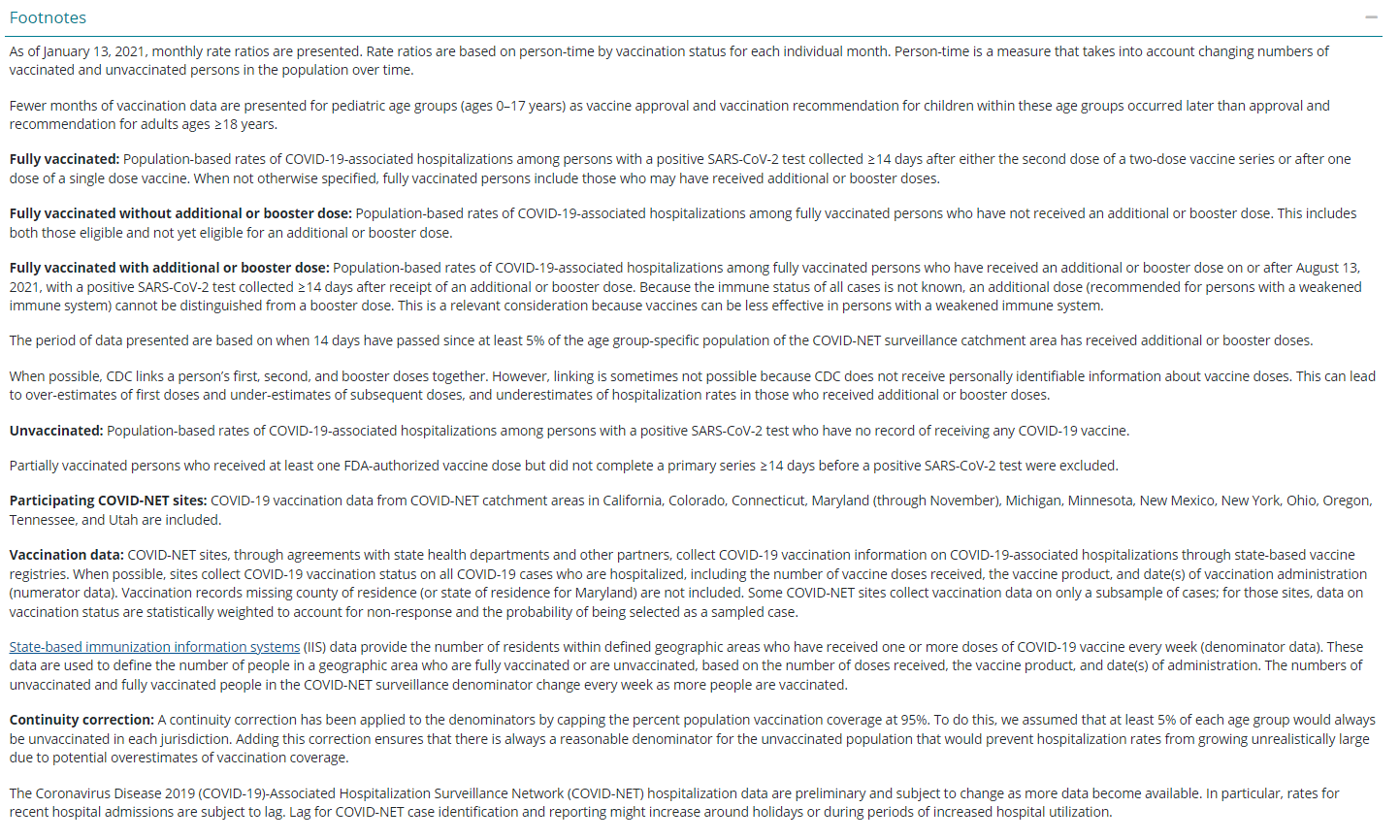 First the CDC admits anyone who is hospitalized while partially vaccinated or within the first 14 days of being fully vaccinated they are counted as an Unvaccinated hospitalization.
Lets make this very clear A FULLY VACCINATED PERSON HOSPITALIZED FOR COVID IS COUNTED AS UNVACCINATED WITHIN THE FIRST 14 days of vaccination.

Getting a booster also makes you count as unvaccinated for another 2 weeks.
So if you get a booster and a week later you are hospitalized from COVID you are still counted as unvaccinated.

The CDC's footnotes even admit it may over-estimate first doses, under-estimate follow up doses and under-estimate the hospitalization rates for boosted people.

The CDC also admits anyone without record of vaccination is considered unvaccinated.

It is obvious this data is manipulated for the purpose of promoting vaccines through fear. Now that so many more vaccinated people are getting COVID, hospitalized for COVID, and even dying from COVID the CDC will probably stop reporting breakthrough data again as they have previously.
According to a report by the Boston Globe: the CDC declined to collect crucial information even when it had the power to do so, such as when it decided last year not to track breakthrough COVID cases that did not result in hospitalization or death.
"We have to know the totality of breakthrough incidents, and the CDC has not prioritized getting those raw numbers," said Rivera, whose organization is working on tracking breakthrough cases. "It's a huge disappointment."
Jernigan said the agency limited its tracking of breakthrough cases to ensure it studies only cases in which the outcome is known. But outside experts say that has not yielded enough information.
"This has hampered our ability to come up with a public health recommendation, and tell the public, go and get a booster much earlier," said Mokdad, the University of Washington professor.
Real-world data show most of infected are fully Vaccinated
Real-world data from areas with high COVID jab rates show the complete converse of what media, the CDC and White House officials are telling us. In addition to the British Technical Briefing No. 16, cited above, we have additional data from Israel, Scotland, Massachusetts and Gibraltar:
Aug.1, 2021, director of Israel's Public Health Services, Dr. Sharon Alroy-Preis, announced half of all COVID-19 infections were among the fully vaccinated. Signs of more serious disease among fully vaccinated are also emerging, she said, particularly in those over the age of 60.
A few days later, Aug. 5, Dr. Kobi Haviv, director of the Herzog Hospital in Jerusalem, appeared on Channel 13 News, reporting that 95% of severely ill COVID-19 patients are fully vaccinated, and that they make up 85% to 90% of COVID-related hospitalizations overall. As of Aug. 2, 66.9% of Israelis had received at least one dose of Pfizer's injection, which is used exclusively in Israel; 62.2% had received two doses.
In Scotland, official data on hospitalizations and deaths show 87% of those who have died from COVID-19 in the third wave that began in early July were vaccinated.
The CDC also found that fully vaccinated individuals who contract the infection have as high a viral load in their nasal passages as unvaccinated individuals who get infected. This means the vaccinated are just as infectious as the unvaccinated.
In Gibraltar, which has a 99% COVID jab compliance rate, COVID cases have risen by 2,500% since June 1.
While those who benefit from keeping the pandemic going would like you to cower in fear at the thought of the Delta variant, there's really no evidence that it's any worse than the original. It's more transmissible, yes, but far less dangerous, as its primary symptoms are that of a regular cold.
According to Harvard and Stanford professors, the actual number of Americans dying from or with COVID-19 are actually at an all-time low, so alarmism is uncalled for. Gillian Ice just want's to scare people to promote Big Pharma's vaccine, as she previously admitted in our press release OU Now Claims They are Not Enforcing The Vaccine Mandate. Here is Why They "Promoted Vaccination"