if you visit Spikevax.com you will see a notice right at the top of the page that says "The Moderna COVID-19 Vaccine has not been approved by the FDA, but has been authorized for emergency use by FDA". I'm just not sure how much more clear it can be, but some people still deny this patent fact that NO FDA APPROVED VACCINE IS AVAILABLE in the United States.

As discussed in FDA reissues EMERGENCY USE AUTHORIZATION FOR Moderna Vaccine, Approves "Spikevax" this behavior of ignoring the reality of the legal differences in the vaccines was expected. This is part of Big Pharma's Pyramid scheme. It is just sad to see so many people falling for it.
Gillian Ice is a supporter of this misinformation. She knows these vaccines are legally distinct but continues to mislead students to believe they can get an APPROVED vaccine. Which they can not get because no FDA approved vaccine is available in America.
She claims The FDA approval changes Spikevax "from Emergency Use Authorization (EUA) to full approval", But Spikevax was never Emergency Use Authorized, the "Moderna COVID-19 vaccine" was Emergency Use Authorized and it still is.

Page 7 of The Letter of Authorization for Spikevax clearly admits Spikevax and COMIRNATY are not available in the United States as of 1/31/22. COMIRNATY has been approved since August, why else would Pfizer continue to produce the EUA vaccine and still have no FDA approved COMIRNATY available unless it was for the liability protection?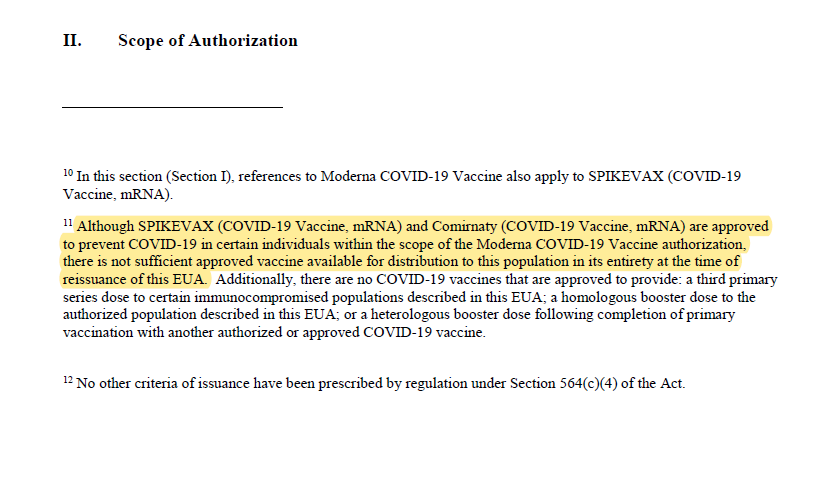 Below is a video of Gillian Ice trying to dance around admitting COMIRNATY is not available.
Question Starts at 40 Minutes. The following transcript is Auto-generated by YouTube with some corrections.
Moderator: all right thank you we next we have Cameron
Cameron: uh yeah so I just had a question about the vaccine. does the university have any type access to the FDA approved Pfizer COMIRNATY vaccine, or is it all just the emergency use authorized BioNTech Vaccine
Gillian Ice: so the vaccine that we have is um, first of all we're not administering the vaccine the health department is administering the vaccine. Our community health programs is administering the vaccine. they have the Pfizer vaccine which is equivalent to the COMIRNATY vaccine, and the FDA has provided that information, which I believe you have.
This misinformation is DANGEROUS. If someone is hurt by an Emergency Use Authorized Vaccine the Pharma companies and providers have full liability protection.