Even with children 5 and over now eligible, the total number of doses administered in the United States every day is well under 1 million. That figure is barely above the July 2021 lows, before the Biden administration tried and failed to force its big-company vaccine mandate through.
Let's look at where America is at overall in regards to vaccinations first.
200 Million+ Vaccinated
88 Million+ Boosted
75.4%+ Of Americans Vaccinated
95%+ of High Risk (over 65) Vaccinated
Now let's break down the current trends in vaccination.
The amount of people in America receiving their first dose of the vaccine is the lowest it has been since the second day the Vaccines were distributed to the public. Everyone who wants to get vaccinated, clearly has got vaccinated. Mandating vaccines at this point only increases vaccine hesitancy.
The Share of American's becoming fully vaccinated has also slowed significantly, allowing the world on average to catch up.
More third shot "boosters" are administered currently than either first or second doses, But demand for boosters is also plunging.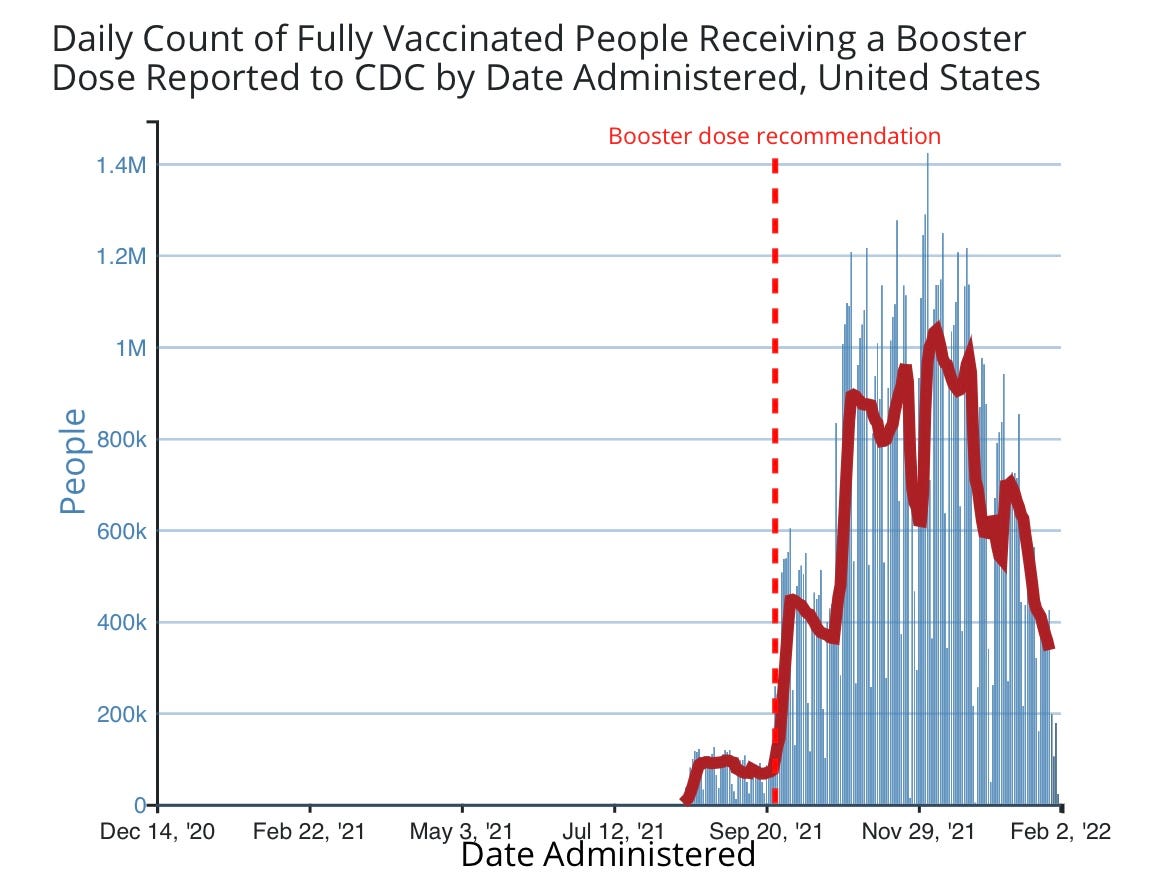 Boosters may be less popular now because it has become clear that over-boosting with these mRNA vaccines is correlating with increased COVID deaths. We are following a similar trend to Israel who is even more BOOSTED than the United States.
Another Interesting piece of data being overlooked is the difference between people with dose 1 and dose 2. As you can see the older you are the less likely you are not to get a second dose after your first.
Looking at it deeper we see the 75+ age group is an outlier, What could explain why so many people over 75 didn't get a second dose? 18-24 Year old people also had a large amount of people not get a second dose of the vaccine.
Well the CDC shares some data that could explain this gap, according to them these 2 age groups have seen 2 surges in COVID deaths since the vaccination's were distributed. Keep in mind over 75% of 18 to 24 year old's are vaccinated and over 99% of people 75+ are vaccinated. So it is possible the difference is accounted for by people who were killed by COVID (or from the vaccine and counted as a COVID death).
But the CDC shows death rates for the unvaccinated still being much higher? This is explained in the footnotes of the CDC's page. If someone tests positive within 14 days of of their first dose and then die at anytime later they are counted as an unvaccinated COVID death. once again remember both these groups are highly vaccinated and 75+ is over 99% vaccinated. This is how the CDC manipulates the data to promote vaccination.

According to the CDC Side effects after the second shot may be more intense than the ones experienced after the first shot. They also say this is normal, I personally don't remember having more intense side effects from any other vaccine dose I have received.

Both Spikevax.com and Comirnaty.com say people who had previous reactions to vaccines and COVID vaccines should not take the another dose. Which is weird since the CDC said reactions are normal and means it's "working". Both pages also say the vaccines may not actually protect you interestingly.


When we look at the CDC's Vaccine Adverse Event Reporting system (VAERS) we see there are over a million adverse events, so approximately 1 million people SHOULD NOT get another dose of these vaccines because of adverse effects.
According to the CDC VAERS database COVID Vaccine related deaths are also highest among the 75+ age group, which also is the group with the largest difference between 1st and second doses.