In the past month the world has seen major changes to mandates as cases decrease after the winter and politician's pushing mandates saw their polling data. But not Ohio University, they continue to violate State Law, Federal Law, FDA Guidelines, and now even CDC recommendations.
Hopefully by now you heard an internal memo from a firm that conducted polling for President Biden's 2020 presidential campaign advised the Democratic Party on how it can present itself as having "defeated" COVID-19 and end unpopular anti-science mandates.
Following this many changes were made including congress no longer wearing masks, and the CDC updating its guidance. The city of Athens where Ohio University is, was the last standing statutory city in the state of Ohio that had a law that requires face coverings when entering into places open to the public. Athens even ended their mandate following CDC guidance.
If anyone in Athens still thought masks worked it sure didn't seem like it this weekend.
Thousands of students flooded the yards of Mill street to party maskless this weekend, after having their spring semesters essentially cancelled by hysterical "health officials" for 2 years straight. Some return to normality is happening in Athens, but not at Ohio U where hysterical government employees continue to violate laws and health guidance.
So what has Ohio U done? as of March 23rd asymptomatic testing has been suspended. vaccines, and masks are still required in class.
So let's go over specifically everything Ohio University is violating by continuing these anti-science mandates.
CDC Guidelines.
The CDC could not make it any clearer that "At all levels, people can wear a mask based on personal preference, informed by personal level of risk."
Despite the CDC's guidance Ohio University requires masks in all indoor spaces with a with COVID community level. They even say this is "designated by the CDC" but if you actually read the CDC's guidance that we just discussed above you'll notice this is either another bold faced lie or another example of Ohio University's "health officials" being illiterate, it's hard to tell anymore.
Masks are also required in classrooms, laboratories, studios, clinical settings, and other similar learning spaces, even on OHIO campuses located in counties with low or medium COVID-19 community levels, again this is despite the CDC specifically providing guidance not to require this.
To actually comply with CDC guidelines Ohio University should immediately make masks full optional in all locations, especially classrooms where the negatives of masks are obviously outweighing any benefit.
FDA Guidelines & Federal Law
Title 21 U.S.C. § 360bbb-3(e)(1)(A)(ii)(I-III) of the Federal Food, Drug, and Cosmetic Act states: individuals to whom an emergency use authorized product is administered are informed —
(I) that the Secretary has authorized the emergency use of the product;
(II) of the significant known and potential benefits and risks of such use, and of the extent to which such benefits and risks are unknown; and
(III) of the option to accept or refuse administration of the product, of the consequences, if any, of refusing administration of the product, and of the alternatives to the product that are available and of their benefits and risks.
Anyone going to Ohio University knows Ohio U has violated this federal law time and time again.
Gillian Ice and Ohio U Hid the Fact That Ohio University has NOT Administering FDA Approved Vaccines and on more than one occasion.
Gillian told a bold faced lie about the FDA's approval of Spikevax in her February 1st Update to Ohio U. She claims The FDA approval changes Spikevax "from Emergency Use Authorization (EUA) to full approval", But Spikevax was never Emergency Use Authorized. the "Moderna COVID-19 vaccine" was Emergency Use Authorized and it still is.

The FDA's letter of approval clearly states this is not true and that "The products are legally distinct with certain differences"

This is also clearly stated on the FDA fact sheet for healthcare providers which obviously Gillian either did not read or did read and is knowingly lying about.
The Moderna COVID-19 Vaccine is Emergency Use Authorized (EUA) for doses 1 & 2, as well as additional booster doses.
Spikevax is only FDA approved for doses 1 & 2, it is EUA for booster doses.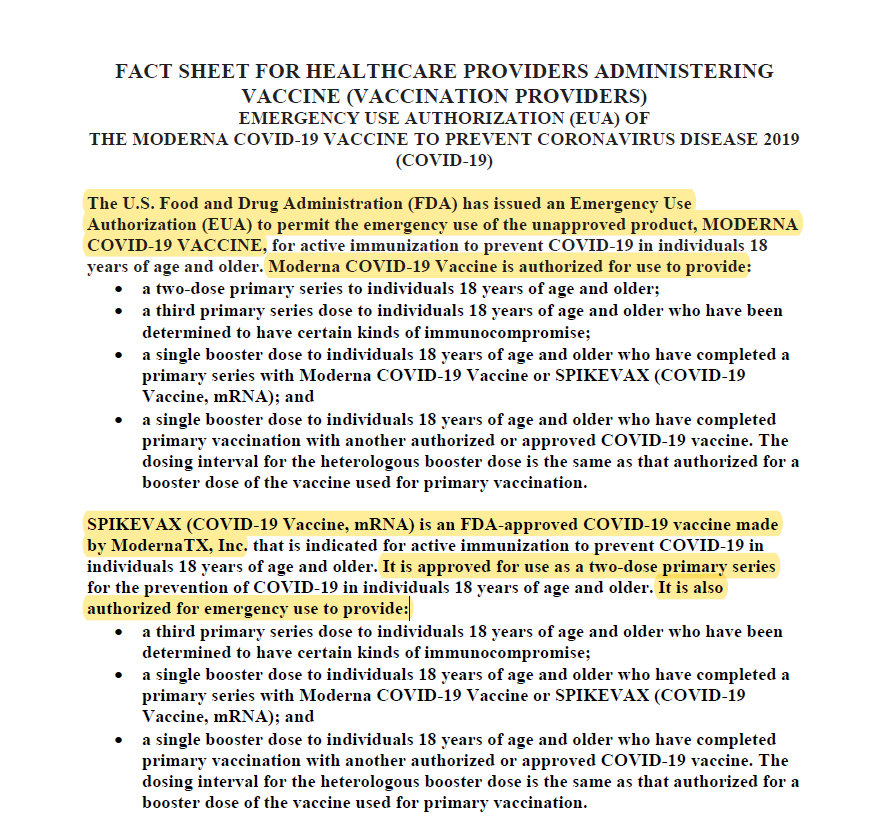 Page 7 of The Letter of Authorization for Spikevax literally even admits Spikevax and COMIRNATY are not available in the United States as of 1/31/22. COMIRNATY has been approved since August, why else would Pfizer continue to produce the EUA vaccine and still have no FDA approved COMIRNATY available unless it was for the liability protection?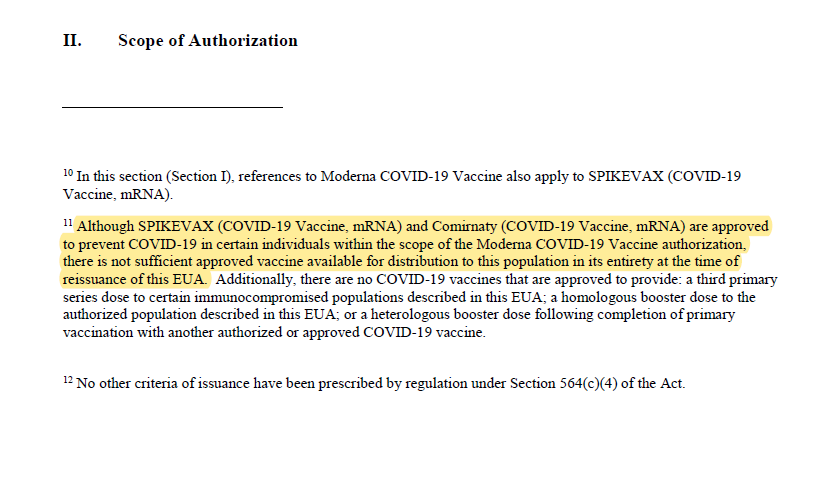 Which is why yesterday before sent this public health update I informed her and OU COVID Operations that COMIRNATY AND SPIKEVAX ARE UNAVAILABLE which is why the EMERGENCY USE AUTHORIZATION for the Moderna COVID-19 Vaccine was reissued.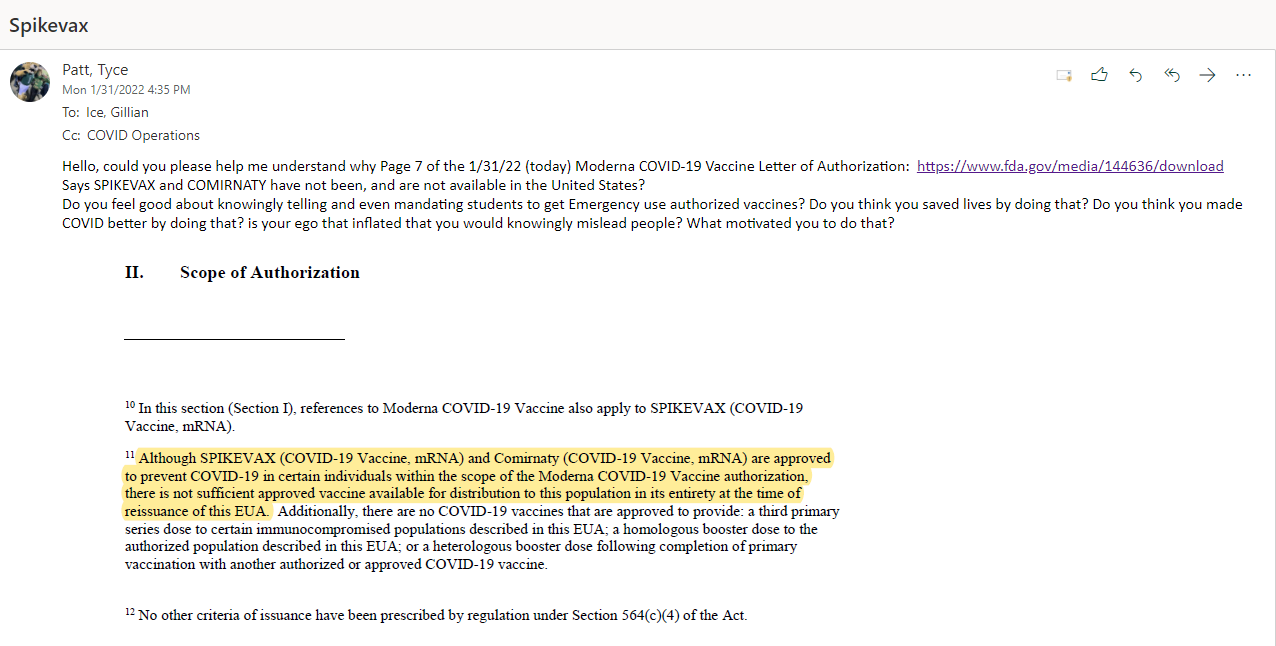 So Ohio University is not properly informing those they are forcing to get vaccinated of the Emergency Use Authorization of the products.
Ohio University is still requiring masks and vaccination despite the fact that all available masks and COVID vaccines in the United states are emergency use authorized.
And obviously the endless anti-science recommendations to get more boosters from Ohio U show they are not informing recipients about the significant harms and completely unknown long-term side effects. There is no one alive on Earth that knows the side effects of the COVID vaccines past 3 years, no one, zero.
Why? because none of these COVID vaccines have even existed for 3 years yet. This is being communicated to none of the young healthy students being forced to inject themselves over and over. Ohio University is violating every piece of this law and they should immediately make all masks and COVID vaccines fully optional.
State Law
Before we go any further it is important to remember or acknowledge the FACT that there is NO FDA APPROVED COVID VACCINE AVAILABLE IN AMERICA. Anyone denying this fact continues to deny reality.
On October 13th, 2021 House Bill 244 went into law in Ohio. Which created Ohio Code Section 3792.04 | Public schools and state institutions of higher education – prohibition against mandatory vaccinations and discrimination.
This Ohio Law clearly says no University can "Require an individual to receive a vaccine for which the United States food and drug administration has not granted full approval". We already know there are no FDA approved vaccines available in America, Only Emergency Use Authorized ones. Despite this Ohio University continues to REQUIRE Emergency Use Authorized COVID Vaccines.
Ohio U has also defended this mandate by claiming it is not a vaccine requirement because there is an exemption, but despite what Ohio U might say there is no guarantee your exemption will be approved by Ohio U. Ohio University also admits they "require" you to have a COVID vaccine or approved exemption which again is not guaranteed. So the only sure way not to be kicked out of OU is to get an EUA COVID vaccine, still.
Because there is no FDA approved COVID vaccine available in America, and because Ohio U continues to require a COVID vaccination as the only sure option to remain on campus, Ohio U is blatantly violating Ohio Code Section 3792.04.
Don't take my word for it, their own emails received through public records law continue to show they know the vaccines are Emergency use Authorized (EUA) and they have discussed how to bounce around this law.
In the email below sent on October 13th (the day House Bill 244 became law) Barbara Nalazek who is the Associate Director of Legal Affairs at Ohio University asked Gillian Ice and others if health care providers had an "OBLIGATION" to tell a patient that they are getting the EUA vaccine instead of the FDA approved COMIRNATY (which was and still is unavailable in America).
under Section 1, Article I of the Ohio Constitution Ohioans have the fundamental right to refuse medical treatment to protect the liberties of personal security, bodily integrity, and autonomy.
Steele v. Hamilton Cty. Community Mental Health Bd., 90 Ohio St. 3d 176, 180–181 (2000). "The liberty interests infringed upon when a person is medicated against his or her wishes is significant … This type of intrusion clearly compromises one's liberty interests in personal security, bodily integrity and autonomy."
Furthermore, The Ohio Constitution "confirms that freedom of choice in health care is a fundamental right," Hamilton County Judge Alison Hatheway said.
Every person at Ohio University, under the Ohio Constitution has the fundamental right to freedom of choice in health care. They can deny masks, testing, and vaccines just as they can accept masks, testing, and vaccines. Ohio University's willingness to violate this fundamental right is disgusting, anti-science, and anti-freedom.
Ohio University should immediately stop violating this fundamental right and give everyone at Ohio University their freedom of choice back.
Ohio University's Own Policy
Ohio University Administrative policy 40.001 states: There shall be no discrimination against any person in employment or educational opportunities because of race, color, religion, age, ethnicity, national origin, national ancestry, sex, pregnancy, gender, gender identity or expression, sexual orientation, military service or veteran status, mental or physical disability, or genetic information.
according to the U.S. Equal Employment Opportunity Commission Genetic information includes information about an individual's genetic tests and the genetic tests of an individual's family members, as well as information about the manifestation of a disease or disorder in an individual's family members (i.e. family medical history). Family medical history is included in the definition of genetic information because it is often used to determine whether someone has an increased risk of getting a disease, disorder, or condition in the future. Genetic information also includes an individual's request for, or receipt of, genetic services, or the participation in clinical research that includes genetic services by the individual or a family member of the individual, and the genetic information of a fetus carried by an individual or by a pregnant woman who is a family member of the individual and the genetic information of any embryo legally held by the individual or family member using an assisted reproductive technology.
According to Ohio University Administrative policy 40.001 Discrimination occurs when a person or group of people are denied rights, benefits, equitable treatment, or access to programs or facilities available to all others because of membership in a protected class. including the genetic information protected class as listed in part A of policy 40.001. This means Ohio University's Vaccine Mandate is directly in violation of Ohio University's own anti-discrimination policy.
Interestingly, Ohio University's Affirmative Action Policy page mentions all the protected groups except for Genetic Information. https://www.ohio.edu/equity-civil-rights/policy
According to the OU policy harassment is defined as conduct that is directed towards a person or a group of persons on the basis of any protected class listed in part (A) of this policy, that is Severe enough to deny or limit participation in or full benefit of employment or educational opportunity at Ohio university;
or Severe or pervasive enough to create a work or educational environment that a reasonable person would consider intimidating, hostile, or abusive.
By Ohio University's own definition OU is participating in the targeted harassment of unvaccinated students and staff. By now everyone knows someone who has been removed from the class they paid or went in debt for because they weren't wearing a mask correctly. By now we all know someone who was unable to go somewhere they were excited to go to because of a likely false positive COVID test. Ohio's mandates are clearly creating a hostile and abusive learning environment.