December Last year 15 Ohio University Students and a Professor filed a lawsuit against Ohio University to end their illegal and discriminatory COVID mandates. You can learn about the original lawsuit filing here, it is recommended you read that first before this to get caught up. Since then OU has only seen more COVID policy failure and our case has only strengthened.
After filing, on January 5th, 2022 Ohio University delivered their first reply to our lawsuit, Ohio University filed a 22 page motion to dismiss the case. Ohio University makes this motion to fully protect their interest on the record, as at this point they would be stupid to admit they broke the law and not fight our lawsuit. The Full Filing is below.
In response 14 days later we filed our first Amended complaint for an injunction to stop COVID mandates at Ohio University. Their own motion to dismiss even proves them wrong.
So before we break down our new filings below we will break down these blatant false hoods in Ohio University's motion to dismiss.
First Ohio University argues that another case from Miami University of Ohio that was "nearly identical" was dismissed because the plaintiffs lacked standing or applied for an exemption. This is an extremely weak argument firstly because anyone can look at our complaint and the Miami complaint and see they they are most definitely not "nearly identical". The Miami lawsuit plaintiffs were employees of Miami University who filled an injunction against the Exemption requirements at Miami. Our complaint was from students and staff who filled an injunction to stop all illegal mandates at Ohio University, exemptions do not bear any effect on our complaints.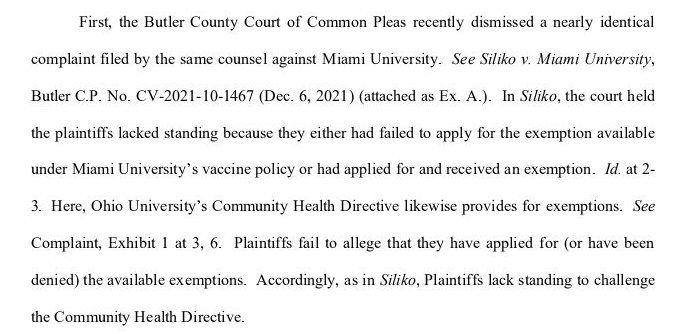 The idea that this Miami case was dismissed for lacking standing is also dishonest. The Miami lawsuit was dismissed because Miami dropped the exemption requirements in question, the lawsuit was no longer needed.
Next Ohio University Argues the student and staff plaintiffs are NOT ENTITLED TO DELARATORY OR INJUCTIVE RELIEF for 4 reasons. All 4 of the reasons they express are laughably poor arguments. First they argue we are not entitled to relief because Ohio Revised Code 2905.12 is a criminal statute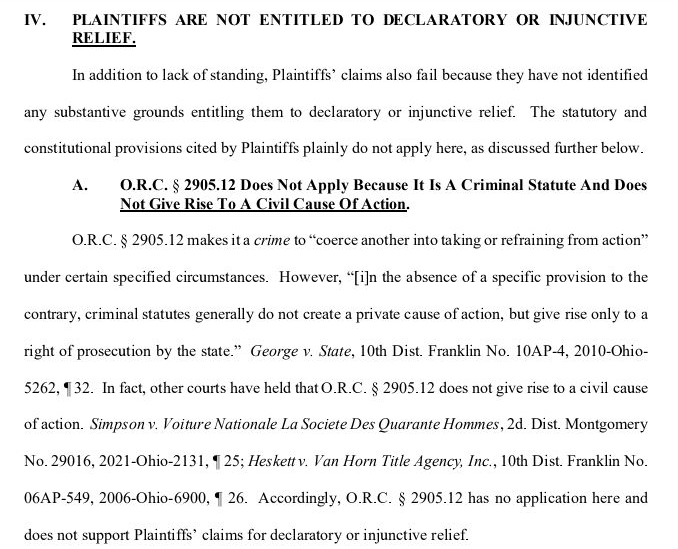 Ohio University argues private citizens can not sue people for coercion, they argue only the state has the right to prosecute coercion. OU's lawyers cite out of context case law to justify this ridiculous claim. We are not seeking to maintain a civil action for damages (to reclaim money for harm) under R.C. 2721.03, in this lawsuit. We are seeking to vindicate our constitutional and statutory rights, therefore R.C. 2905.12 does apply.
Next Ohio University argues Ohio Revised Code 3709.212 does not apply to them because Ohio University is not a City or General Health District.
Ohio SB 22 became effective June 23rd. the act specifies that a local board of health may issue orders or regulations that apply only to specific individuals or businesses. Any order that applies to a class of persons in violation of this provision is invalid and has no legal effect. Specifically, the act provides that any order or regulation issued by a local board of health for the prevention or restriction of disease may only apply to individuals and businesses that:
(1) have been medically diagnosed with the disease that is the subject of the order or regulation,
(2) have come in direct contact with someone who has been medically diagnosed with the disease that is the subject of the order or regulation, or
(3) have a documented incident in the building of the disease that is the subject of the order or regulation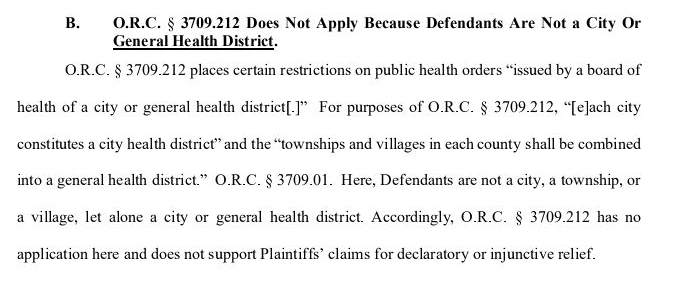 Ohio University's lawyers admit R.C. 3709.212 applies to Board of health, cities, and general health districts. They then claim Ohio University is not a city or general health district, which is true. But they do not deny Ohio University is a board of health who makes public health orders, R.C. 3709.212 obviously does apply. Furthermore, if the Athens health department is bound by R.C 3709.212 and Ohio University base policy on the Athens Health Department's policy surly R.C. 3709.212 applies.

Next Ohio University argues R.C. 3792.04 does not apply and repeats the most famous lie "The Pfizer vaccine has received full approval from the FDA". This has been proven false time and time again. If we want to get technical the FDA has never even used the term "full approval", you can check for yourself here. Products are either Approved or Authorized.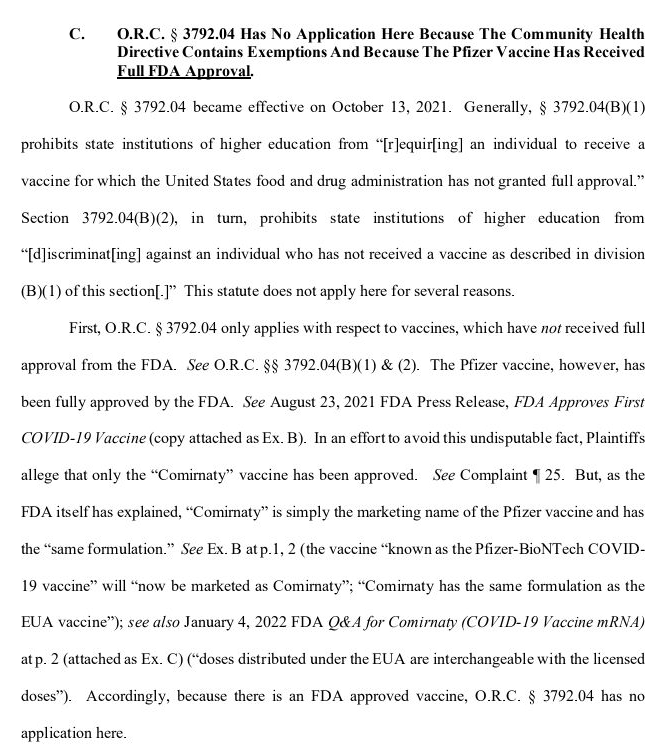 Amazingly, Ohio University's Lawyers proved themselves wrong in their own Exhibit C of their motion to dismiss on Page 22. In the document provided by OU's lawyers it CLEARLY STATES:
COMIRNATY and The Pfizer-BioNTech COVID-19 vaccine are LEGALLY DISTINCT
They can be used interchangeably for purposes of administration (not purposes of mandates)
The Pfizer-BioNTech COVID-19 Vaccine is Emergency Use Authorized
Furthermore, the CDC even admits both FDA approved COVID vaccines (COMIRNATY and SPIKEVAX), are not orderable, are not available, and will not be available. Including Spikevax made by Moderna.
This mean's all COVID vaccines administered and available at Ohio University are EMERGENCY USE AUTHORIZED. Ohio R.C. 3792.04 could not be any clearer: A public school or state institution of higher education shall not require an individual to receive a vaccine for which the United States food and drug administration has not granted full approval.
Ohio University then goes onto interestingly say that even if Ohio R.C. 3792.04 applied which they still claim "it does not", the directive "does not require" anyone to take a vaccine because exemptions are available.

As of today months after being served with the lawsuit would you say Ohio University's vaccine mandate page reflects something that is "not required"? There is no guarantee anyone's exemption would be approved and many were not. The only sure way to not be kicked out of Ohio University was to get an Emergency Use Authorized COVID vaccine.
Ohio R.C. 3792.04 also clearly states: A public school or state institution of higher education shall not Discriminate against an individual who has not received an Emergency Use Authorized vaccine.
Ohio University also says Ohio R.C. 3792.04 does not apply because while they admit discriminating against the unvaccinated with a weekly testing program, they claim we do not allege we have been required to engage in such testing, this is obviously not true.
If tests are not required why did many OU students receive this text and a similar threatening email on 2/15/2022?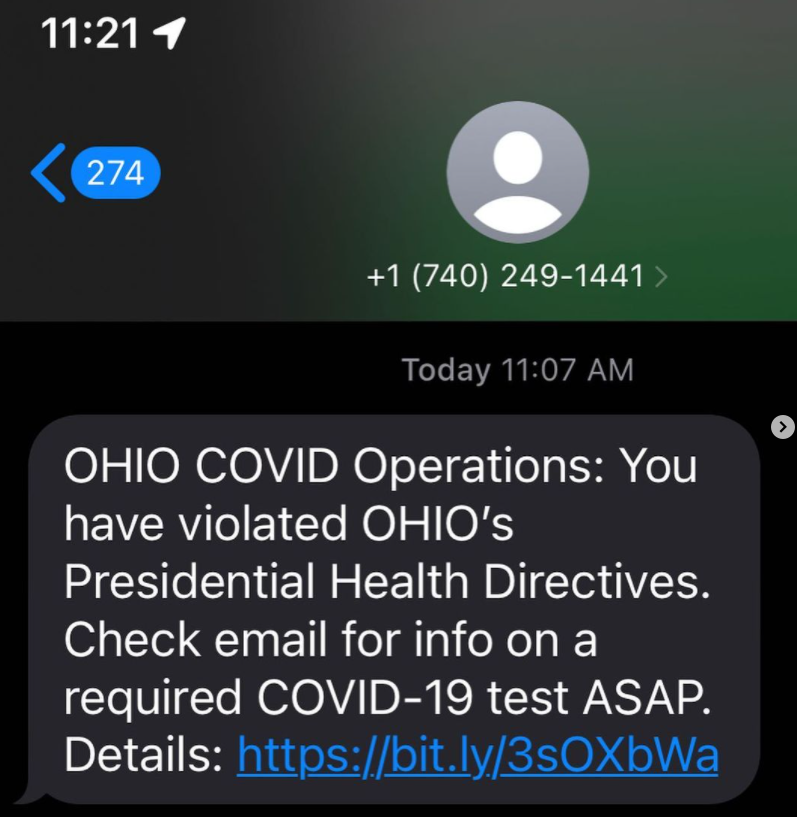 Again, Ohio University's own website proves them wrong, it says asymptomatic testing is required for unvaccinated individuals, this is clear discrimination in violation of Ohio R.C. 3792.04. OU's lawyers try to frame the testing pathway as a "program" "provided" to the unvaccinated. That is clearly ingenuine.
Finally Ohio University makes their worst argument yet. Ohio University argues Ohioans do not have the constitutional right to medical choice. They claim the vaccine, testing, and mask requirements are not really requirements because you can apply for an exemption.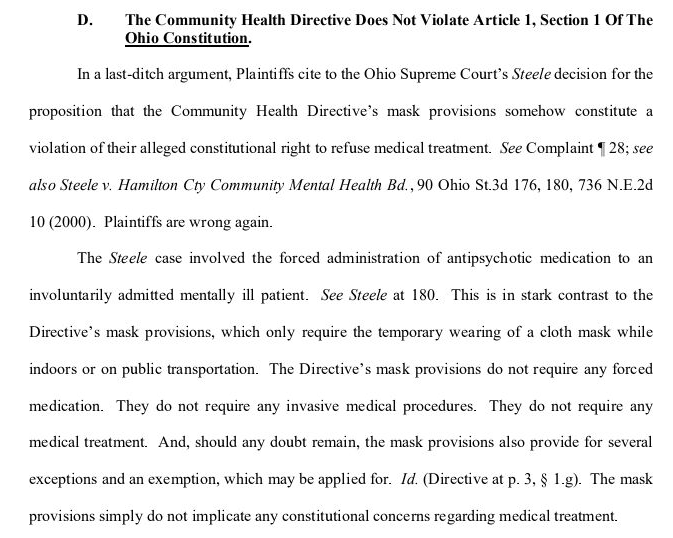 Well I applied for an exemption from testing. When you submit your request you receive a call from Ohio University asking you to explain why you want to be exempted. On the call they told me I could not receive an exemption from testing, so I requested that to be sent to me in writing via email.
I received the following email, Where George Anaya from Ohio University tells me I can avoid testing by taking an Emergency Use Authorized vaccine. If this isn't obvious coercion I don't know what is.

Below is the full email thread where I explained why I did not want to take asymptomatic tests, I was never granted an exemption.
Our Response
In response to Ohio University's weak motion to dismiss on 01/19/2022 we filed our first 38 page amended complaint for injunctive and declaratory relief. The full filing is below.
This amended complaint goes in depth into the topics discussed previously in this press release.
In response to our Amended Complaint OU's motion to dismiss from 1/05/2022 is moot so they had to submit a new motion to dismiss or another plead.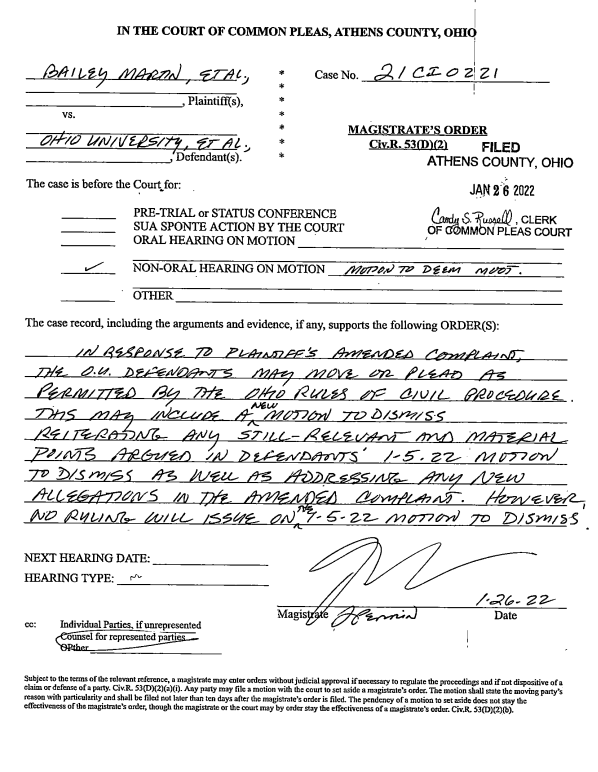 On 2/02/2022 Ohio University submitted their amended motion to dismiss.
The only real change Ohio University made in their motion to dismiss was adding Spikevax as another FDA approved COVID vaccine. As we have discussed time and time again, while Spikevax is FDA approved it is not available, only the EUA Moderna COVID-19 vaccine is.
Page 7 of The Letter of Authorization for The Moderna COVID-19 Vaccine from the FDA literally even admits Spikevax and COMIRNATY are not available in the United States as of 1/31/22. COMIRNATY has been approved since August, why else would Pfizer continue to produce the EUA vaccine and still have no FDA approved COMIRNATY available unless it was for the liability protection?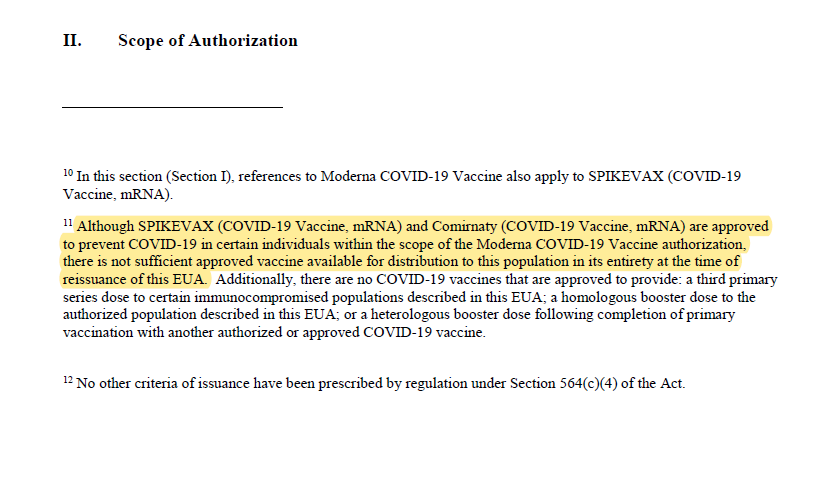 The CDC admits both FDA approved COVID vaccines, are not orderable, are not available, and will not be available. Including Spikevax made by Moderna.
The lie Ohio University is spreading that you can get an FDA approved COVID-19 vaccine is dangerous, harmful, and unethical. Even local media like FOX NEWS has fallen victim to this misinformation. Just because the FDA approved a ghost vaccine that is not available anywhere in the United States, does not give Universities the right to break the law and mandate Emergency Use Authorized vaccines and discriminate against those who do not have an EUA vaccine.

In Response to Ohio University's nearly identical and equally as weak motion to dismiss, 2 days after they filed, We filed a 44 page Brief in Opposition to the Amended Motion to dismiss. In our brief we completely explain in depth the falsehoods of OU's motion. It is highly recommended you take the time to read this full brief, it is available below:
SEPERATE MOTION FOR PRELIMINARY INJUNCTION
After all of what we just previously discussed on 2/10/2022 we filed our strongest argument yet in a separate 108 page motion for preliminary injunction. A motion for preliminary injunction is a motion filed while a lawsuit is pending asking the court to prevent the other party from doing something or forcing the other party to maintain the status quo until the court actually decides the merits of the case. In this case this injunction would force Ohio University to cease the illegal mandates. That full filing is below, it is highly recommended you read through it if you have the time. we will break it down some since it is so large and contains new information.
First lets talk about the mask mandate, Ohio University argues the mask mandate is legal because masks are not medical devices and therefore your constitutional right to refuse medical treatment does not apply. However, according to the FDA masks are clearly a form of medical treatment that are only authorized for EMERGENCY USE.
Furthermore, The Ohio Constitution and Federal Law 21 United States Code 360bbb-3(e)(1)(A)(ii)(III) Gives Ohioians the right to refuse Emergency Use Authorized products. This includes all available COVID-19 vaccines, All Masks, and all COVID Tests.
Remember when Ohio Republicans Abortion Ban Law was blocked because A Hamilton County Judge said The Ohio Constitution "confirms that freedom of choice in health care is a fundamental right". Do Ohio University's actions not show they don't believe Ohioans have a constitutional right to medical choice?

To Override someone's right to refuse medical treatment Ohio Courts have upheld that a Physician must prove there is immanent danger to the patient refusing treatment. To Strengthen our argument we included 3 Sworn Affidavits from experts proving we are NOT in immanent danger and even explaining the harms of Ohio University's Mandates.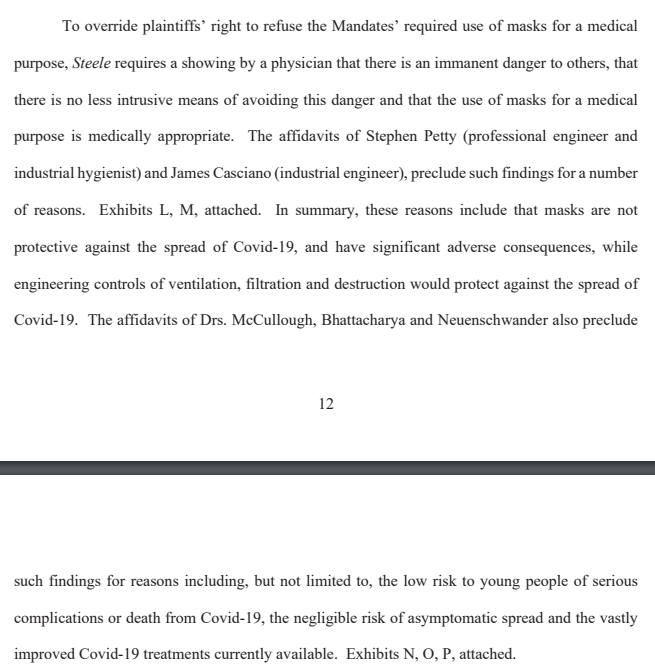 One of the Affidavits is of Dr. Peter McCullough. Dr. McCullough is board certified in internal medicine, cardiovascular diseases, and clinical lipidology. He cares for advanced patients with common medical problems including heart and kidney disease, lipid disorders, and diabetes. He has become an expert on COVID-19.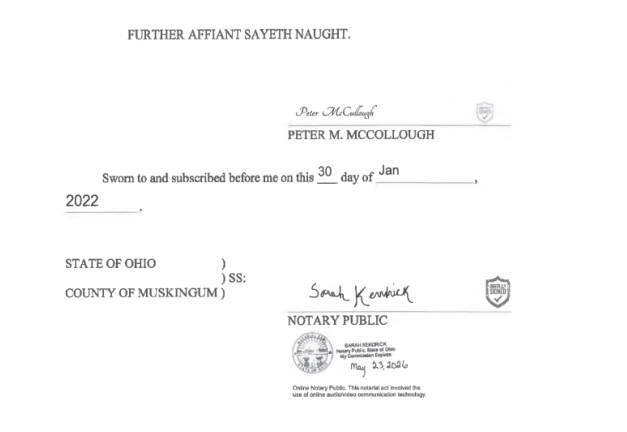 Dr. McCullough has broadly published on a range of topics in medicine with over 1,000 peer reviewed publications and over 600 citations just in the National Library of Medicine.
Since the outset of the pandemic, Dr. McCullough has been a leader in the medical response to the COVID-19 disaster and has published "Pathophysiological Basis and Rationale for Early Outpatient Treatment of SARS-CoV-2 (COVID-19) Infection" the first synthesis of sequenced multidrug treatment of ambulatory patients infected with SARS-CoV-2 in the American Journal of Medicine and subsequently updated in Reviews in Cardiovascular Medicine. He has over 35 peer-reviewed publications on the infection and has commented extensively on the medical response to the COVID-19 crisis.
Dr. McCullough is one of the leading experts on the COVID-19 crisis who is actually working in the field, unlike the CDC director who does not work in the field they work for the government. His Affidavit is below, we strongly encourage you to read it.
Since Our Brief and Motion for a Preliminary Injunction Ohio University has only replied with a reply brief on 2/11/2022 in support of the motion to dismiss the amended complaint. It is 7 pages, they repeat themselves a lot again but there are some new statements in this brief that are just laughable. The full brief is below:
Ohio University argues we do not allege a single instance of discrimination based on vaccination status. Anyone who has followed this lawsuit or goes to Ohio University knows this statement is completely false. Now even people who are not boosted get treated the same in regards to quarantine as the unvaccinated. Only boosted students do not have to quarantine on campus, if that is not blatant discrimination based on vaccination status, I'm not sure what is. There are ZERO FDA approved booster doses.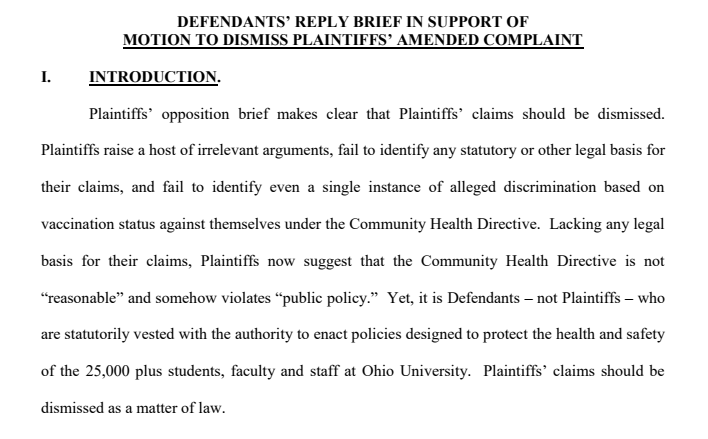 Ohio University also argues they are statutorily vested to enact these policies. The supreme court recently ruled EVEN THE PRESIDENT does not have this authority without congressional action. The State of Ohio never passed a law saying College's can mandate EUA products, so they can't. This is not complicated.
Ohio University goes onto argue that we have no merit. They somehow call our arguments a "hodge-podge" which ironically is a better description for their constantly changing and senseless COVID policies. Ohio University is seriously admitting now the federal government can not mandate COVID vaccines but they believe they, a government owned university, can. (Insert laughing emoji)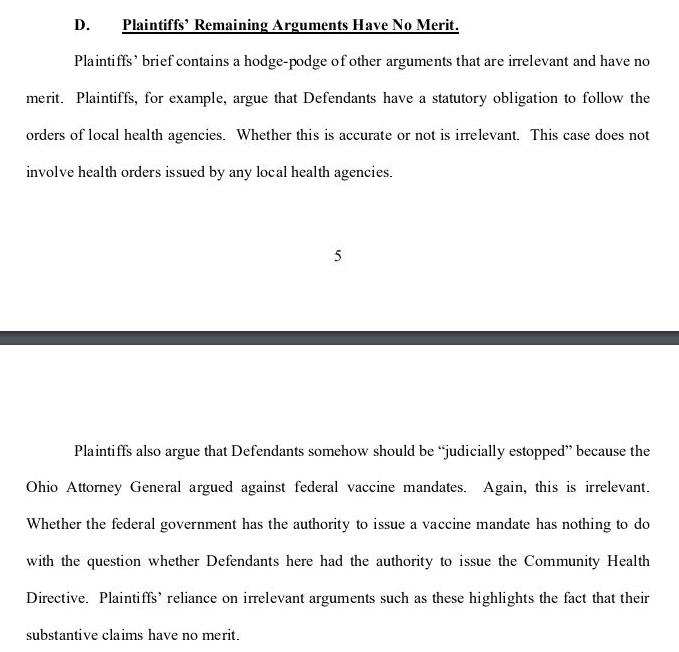 Ohio University also claims this case does not involve health orders of local health agencies. This email from Gillian Ice clearly says otherwise. There's plenty of emails like this, OU officials have publicly stated they are working with local health agencies. Ohio's on campus health services are literally operated by OhioHealth.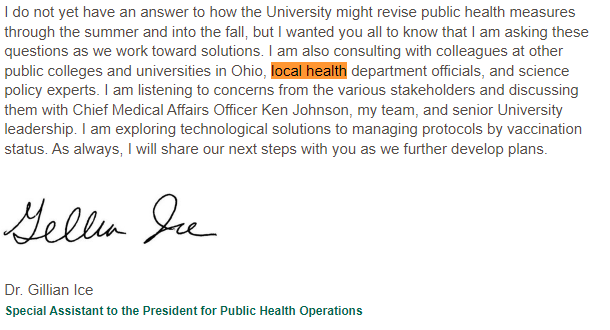 Finally Ohio University concludes by saying there is no traceable injury to their mandates. They go onto say that even if we do have standing from a traceable injury our claims should still be dismissed for the reasons they mentioned above. (Yes the same reasons we were easily able to prove false just in this post, I know it's hard to believe but they can't just admit they broke the law I guess). This is the third time Ohio University has requested our Complaint be dismissed with prejudice. Our case has NOT been dismissed as of writing this and we still await OU's motion to dismiss our preliminary injunction, which will surely be just as easy to disprove.

It is clear to anyone following along with the case who has the much stronger argument. SPOILER ALERT: It is not Ohio University.
We fully expect to win our case and END COVID MANDATES at Ohio University, even if that means taking it to the Ohio Supreme court and beyond.

Ohio University's argument is not only weak, it's unethical. Ohio University is facing multiple lawsuit's for multiple reasons, not just ours.

It has become clear to most who are paying attention Ohio University is not looking out for the good of students and staff, they are looking out for their pocket books.

Plaintiff Tyce Albert Patt
---
You can help us END DISCIMINATORY AND ILLEGAL MANDATES AT OHIO UNIVERSITY!
Visit our Donation page to find our more! We appreciate all the support and the quickly growing support! We have raised over $3,000 just from our donation page! This has already helped us tremendously and we are beyond appreciative of the support! WE WILL NOT LET YOU DOWN!\